Day 1 :
Keynote Forum
University of Delaware, USA
Time : 9:00 - 9:40

Biography:
Dr. Bingqing (B. Q) Wei is currently a Full Professor in the Department of Mechanical Engineering at the University of Delaware. He was an Assistant Professor in the Department of Electrical & Computer Engineering and Center for Computation & Technology at Louisiana State University from 2003 to 2007. He had worked as a research scientist at Rensselaer Polytechnic Institute, Department of Materials Science and Engineering and Rensselaer Nanotechnology Center from 2000 to 2003. Dr. Wei was a visiting scientist for Max-Planck Institut für Metallforschung, Stuttgart, Germany in 1998 and 1999. From 1992 to 2001, he was a faculty member at Tsinghua University in Beijing, where he received his Bachelor's degree (1987), M.S (1989), and Ph.D. (1992) in Mechanical Engineering. He is a member of The Materials Research Society (MRS), The Electrochemical Society (ECS), The American Chemical Society (ACS), and The American Society of Mechanical Engineering (ASME)
Abstract:
Renewable energy sources such as solar energy and wind power are intermittent in nature, reliable electrochemical energy storage systems, mainly including rechargeable batteries and electrochemical capacitors (supercapacitors), are purposely explored to promote efficient utilization of these energy sources and are a growing challenge. In the meantime, flexible/stretchable electronics have attracted considerable attention very recent years and have opened the door to many important applications that current, rigid electronics cannot achieve. In order to accommodate these needs, energy source devices must be flexible and stretchable in addition to their high energy and power density, light weight, miniaturization in size, and safety requirements.
The development of stretchable energy storage devices has been one of the most important research areas in recent years and relies mostly on the successful fabrication of electrode materials. Utilizing nanomaterials and nanostructures such as carbon nanotubes (CNTs) for various energy storage applications such as electrodes for lithium ion batteries and supercapacitors and as catalyst supports in fuel cells are under scrutiny because of their improved electrochemical activity, cost effectiveness, environmental benign nature, and promising electrochemical performance. In this presentation, I will report our research efforts in the fabrication of stretchable supercapacitors based on CNT macrofilms, including stretchable double layer supercapacitors, pseudocapacitors, and asymmetric supercapacitors that can stably be operated under both static and dynamic modes.
Keynote Forum
Center for Nano scale Materials, Argonne national laboratory, USA
Time : 9:40 - 10:20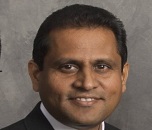 Biography:
Anirudha Sumant is a Materials Scientist working at Center for Nanoscale Materials, Argonne National leading the research on nanocarbon materials including CVD-diamond, carbon nanotube and graphene. He has more than 22 years of research experience in the synthesis, characterization and developing applications of carbon based materials. His main research interests include electronic, mechanical and tribological properties of carbon based materials, surface chemistry, micro/ nano-scale tribology, and micro-nanofabrication. He is the author and co-author of more than 100 peer reviewed journal publications, 2 book chapters, winner of four R&D 100 awards, NASA Tech Brief Magazine Award, 2016 TechConnect National Innovation Award, has 16 patents granted, and 15 pending and given numerous invited talks. His research in diamond materials helped in the formation of several start-up companies including NCD Technologies Inc. and AKHAN Semiconductors Inc. He is a member of MRS, STLE and AVS
Abstract:
Minimizing friction and wear-related mechanical failures remains as one of the greatest challenges in today's moving mechanical systems leading to a search for new materials that can reduce friction and wear related energy losses and the understanding of fundamental mechanisms that control friction. In this context, our work on graphene has shown that this materials properties can be manipulated at the atomic level to achieve exceptionally high wear resistance, as well as well as achievement of superlubricity (or near zero friction) at macroscale through combined use of graphene and nanodiamonds on sliding surfaces [1]. This discovery presents a paradigm shift in understanding frictional behavior of graphene and other 2D materials and offers a direct pathway for designing energy efficient frictionless tribological systems. In the second part of my talk, I'll describe our recent work on direct growth of wafer-scale graphene on diamond. The fact that the one atom thick graphene membrane strongly affected by the substrate interactions puts limit on exploiting excellent intrinsic properties of graphene for various applications. Diamond offers multiple unique properties, such as high phonon energy, low trap density, and high thermal conductivity, which make it an ideal substrate for fabricating graphene devices on diamond [2]. We demonstrate a novel process to grow large area single and few layer graphene directly on the diamond thin film deposited on silicon wafer thus eliminating the need for graphene transfer [3]. This approach offers new opportunities for developing graphene based nanoelectronic devices directly on dielectric substrate (diamond/Si) and provides reliable, efficient and low cost alternative as compare to current methods.
Keynote Forum
University of Winwaterswand, Johannesburg
Time : 10:20 - 11:00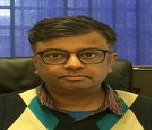 Biography:
Somnath Bhattacharyya is a Professor in the School of Physics at the University of the Witwatersrand, Johannesburg, South Africa focusing on the area of condensed matter physics and nano-electronics. His major interest is in the transport properties of carbon and major achievements include the demonstration of resonant tunnel devices based on amorphous carbon, gigahertz transport in carbon devices, n-type doping of nanocrystalline diamond and developing theoretical models for transport in disordered carbon. His team focuses on the fabrication of the nanoelectronic devices, studying novel electronic properties of nanocrystalline diamond films and carbon superlattice structures at high magnetic fields and high frequencies. His group is also involved in performing theoretical modeling of carbon quantum structures. He is engaged in developing a new infrastructure for a wider range of nanotechnology that will include quantum matter, carbon based microwave detectors and nano-bio-electronics.
Abstract:
Nanostructured semiconducting carbon system, described by as a superlattice-like structure demonstrated its potential in switching device applications based on the quantum tunneling through the insulating carbon layer [1-4]. This switching property can be enhanced further with the association of Josephson's tunneling between two superconducting carbon (diamond) grains separated by a very thin layer of carbon which holds the structure of the film firmly [5]. The superconducting nanodiamond heterostructures form qubits which can lead to the development of quantum computers provided the effect of disorder present in these structure can be firmly understood. Presently we concentrate on electrical transport properties of heavily boron–doped nanocrystalline diamond films around the superconducting transition temperature measured as a function of magnetic fields and the applied bias current. We demonstrate signature of anomalous negative Hall resistance in these films close to the superconductor-insulator-normal phase transition at low bias currents at zero magnetic field [5]. Current vs. voltage characteristics show signature of Josephson-like behavior which can give rise to a characteristic frequency of several hundred of gigahertz. Signature of spin flipping also shows novel spintronic device applications. We are working towards utilizing the superconducting phenomena in nanodiamond films in making some novel quantum electronic and high speed devices. This project complements our previous work on nitrogen-doped nanodiamond films and related nanostructured carbon devices which showed interesting radio frequency features in the gigahertz range.
Carbon materials in energy
Location: .
Applications of carbon nanotubes
Location: .